"Shakes & Snaps"

Season 2, Episode 23

Information
Air Date

TBD

Production code

223

Writer(s)
Episode Guide
Previous
Next
Shakes & Snaps
is the 23rd episode in season two of Austin & Ally. It is the first episode since Dallas became a main character in Firsts & Fists.
While rehearsing the new video before the lyrics are finished, Austin accidentally causes the big 'A' in the music room to fall on Ally, breaking her arm and giving her short term memory loss after she finishes the song. Meanwhile, Trish gets a job at the ice cream shop and needs Dallas and Dez to help clean the place after she accidentally floods it with the milkshake machine.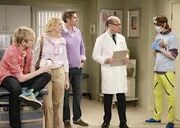 SONG FEATURED: Better Together
Will be released after Firsts & Fists.