"Peace & Prizes"

Season 2, Episode 24

Information
Air Date

TBD

Production code

224

Writer(s)
Episode Guide
Previous
Next
Peace & Prizes
is the 24th episode in season two of Austin & Ally. It features one-sided Mindy/Dez....
The mall holds a contest to see which store can sell the most items in three days, corrupting Ally as she tries to win. Meanwhile, Austin, Dallas, Dez and Trish try to win some guitars for Sonic Boom by looking for a 'Golden Nugget' in their food at the Chicken Hut.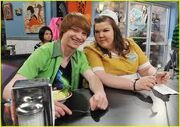 Will be released after Shakes & Snaps.